Kersey herd wins Improved Herd Award for the British Blue breed
14th November 2016
The Kersey herd, owned by R Partridge and Son Ltd, has been recognised by AHDB Beef & Lamb as the Most Improved Herd of British Blue cattle in England in 2016. This is the second time they have won the award, first receiving the title in 2011.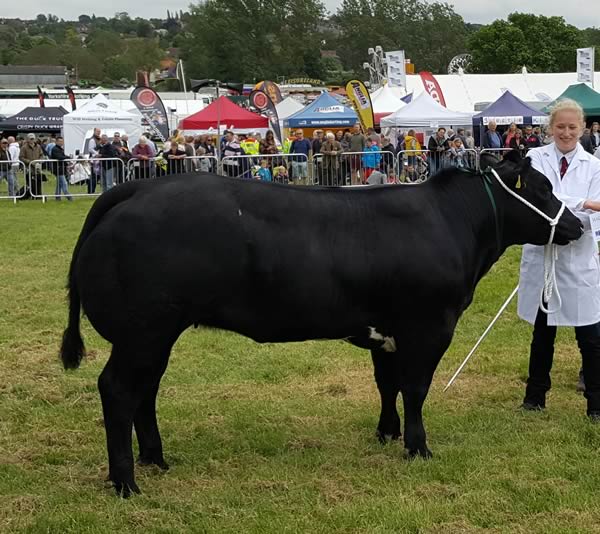 The award is presented by the AHDB Beef & Lamb Better Returns Programme (BRP) to the recorded herd that shows the greatest genetic gain for commercial characteristics over a 12-month period. There is a separate award for the ten UK breeds.
The farm, located near Ipswich in Suffolk, is a mixed business on 300 hectares. Two thirds of the farm is arable and the rest permanent pasture. Chris Partridge works together with his wife, Sarah and the eldest of their four children, Alice. Alice is in her final year of university and is showing a keen interest in the cattle and is passionate about the British Blue breed.
Within the Kersey herd there are 20 British Blue females and a suckler herd of 60 Simmental-cross cows. They also run a long-established flock of 100 pedigree Suffolk sheep. Livestock are fed home-grown feed, along with arable by-products including straw, grass silage, fodder beet, wheat and barley.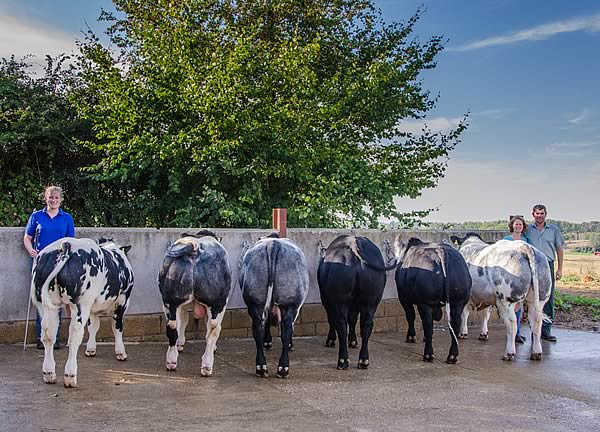 The value of recording for informed choices
The British Blue herd was established in 1986 after Chris left college and has been recorded for 13 years, first with Signet and now Breedplan.
"My Suffolk flock has always been performance recorded with Signet. The data provided guides management and breeding decisions for sound genetic progress and so it seemed logical to record my British Blue herd too" Chris explained.
"I am a firm believer in performance recording. There is a lot of merit in having data available on an individual animal, as long as accuracy in the estimated breeding values (EBVs) is high."
EBVs are an important tool in his business, with the key focus being 400-day growth, followed by muscle and back-fat depths, carcase yield index and calving ease.
"All animals are scanned and weight recorded, this helps to guide my breeding decisions," Chris said.
Choosing genetics with specific breed traits
Within the Kersey herd they tend to use British genetics rather than imported, targeting traits for growth rate and overall muscling. Their objective is to breed bigger animals that retain their natural calving ability. Using homebred Kersey bulls on their suckler herd confirms that they are achieving their aim as cross-bred British Blue calves are born easily and finished cattle often achieve top prices at market at around 16 months of age.
The Kersey herd continues to make progress, with growth and carcase-yield EBVs improving due to the use of a number of bulls with high EBVs over the years. Pedigree cows are served by artificial insemination (AI) to incorporate new genetics from bulls with top beef values.
Four-year-old, homebred Kersey Ebony, sired by Mountjoy Utopia, has some of the highest growth-rate EBVs in the country. His calves are born very well, with correct legs and backed by high figures. He continues to be used on the Kersey herd and frozen semen means other pedigree breeders can access his genetics, providing another useful income for the farm.
Ballygrange Alex has been used via AI recently to introduce a different bloodline to the herd. Both Ebony and Alex are active, correct and have good figures with high accuracy scores.
Bulls from the Kersey herd are supplied to suckler herds and dairy farms and females are sold as bulling or in-calf heifers. Embryo transfer has been used in the Kersey herd for many years and they often have embryos available for sale.
Since their last award they have been selling bulls to the AI company Cogent, for use in their dairy market. Cogent are particularly interested in their high-beef-value, white-coated bulls to produce blue calves at crossing. In the past few years they have sold ten bulls in total, which has been a welcome addition to the production of bulls for suckler herds.
Chris said: "A fair proportion of suckler herds prefer the coloured bulls with a bit more muscle but they also value good calving and growth figures. Growth rate is so important for the industry."
Bulls are sold direct from the farm and occasionally through Carlisle or Chelford pedigree sales. Beef values on individuals are available through their own website or Breedplan, helping producers to source the genetics they require.
Chris said: "I am delighted and surprised to receive this award for a second time!
"I was not expecting it but am very pleased to have the recognition and it is exciting for my daughter, Alice, who is heavily involved with the cattle."