Over 50 British Blue Heifers average £1154.60 at Kirkby Stephen
Harrison & Hetherington Ltd, Kirkby Stephen mart held their annual Prize show and sale of Suckled calves, on 31st October 2016, when an entry of 503 was on offer.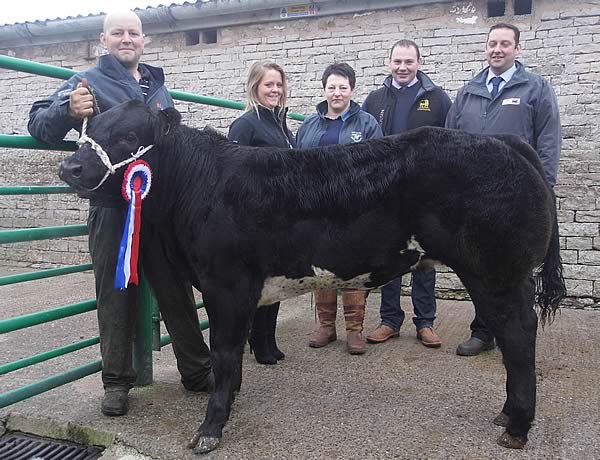 Topping the sale at £2550 was the overall champion a 9 month old British Blue Heifer from Andrew & Mark Brown, Asby Hall, which sold to Messrs Allen, Singington.
Our judge Mr M. Harryman awarded the overall Reserve Championship to a 8 month old British Blue Heifer consigned by Messrs Marston, Easegill Head which went on to sell for £2300 to Mr D Thwaites on behalf of a client.
The best quality calves were great to sell, with heifers being particularly in strong demand and were a flying trade, being £47.02 up on the year. Over 50 British Blue heifers forward averaged a staggering £1154.60. The best quality steers were a similar trade on the year with buyers being quality conscious.
Heifers averaged £860.22
Steers averaged £825.19
30 more calves were sold on the year.
The show was kindly sponsored by JG Animal Health, Dugdale Nutrition, North West Limousin Cattle Breeder Association and The British Blue Cattle Society.
British Blue Cross
1st – Messrs Taylor, Waterhouses - £1220
2nd – KA Brown & Sons, Asby Hall - £1180
3rd – D&CE Marston, Easegill Head - £1100
Champion Male
Messrs Taylor, Waterhouses - British Blue
British Blue Cross
1st – KA Brown & Sons, Asby Hall - £2550
2nd – D&CE Marston, Easegill Head - £2300
3rd – KA Brown & Sons, Asby Hall - £1400
Champion Female
K A Brown & Sons, Asby Hall – British Blue
Reserve Champion Female
D&CE Marston, Easegill Head – British Blue
Champion British Blue
K A Brown & Sons, Asby Hall – Heifer
Reserve Champion British Blue
D&CE Marston, Easegill Head – Heifer
Supreme Champion and winning the Stan Davis Cup - KA Brown & Sons, Asby Hall – British Blue Heifer
Reserve Supreme Champion
D&CE Marston, Easegill Head – British Blue Heifer