Coldridge Herd Wins Most Improved Herd Award
21st July 2015
The Coldridge herd, owned by John Quick from Crediton in Devon, has been recognised by AHDB Beef & Lamb as the Most Improved Herd of British Blue cattle in England for 2015.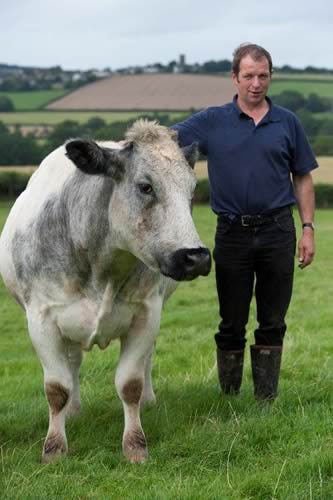 The award is presented by the AHDB Beef & Lamb Better Returns Programme (BRP) to the recorded herd that shows the greatest genetic gain for commercial characteristics over a 12-month period. There is a separate award for each of 10 UK breeds.
Establishing the suckler herd
John's venture into pedigree British Blue cattle began in 1984. It was a relatively new breed in this country at the time and they were attracted by the quiet nature, good conformation and meat production.
From one heifer bought in 1984, the herd has grown to 60 suckler cows and progeny. The herd is run alongside a flock of 900 crossbred ewes, arable crops and a dairy-bred beef finishing enterprise on the 345 hectare (850 acre) that the family farms. Today, John's partner Ruth and 14-year-old son Callum help on the farm and at cattle shows.
"The Blues have proved easy to look after and they are very quiet," says John. He finds them to be easy calving within the herd and the short gestation length works well in his system.
For their first calving, females are served by an Aberdeen Angus bull, so they can calve naturally and easily at two years old. Cows are then served using the pedigree stock bulls.
After calving indoors in early spring, they go out to grass with their calves until housing, when the calves are weaned.
He has been performance recording the herd for many years, initially starting because some of the buyers of his bulls are keen to see the figures. But he has also used the Estimated Breeding Values (EBVs) and Index figures to help improve the herd. "We can see the EBVs improving over the years on paper and when you look at the quality of animals in the field," he adds.
The focus has been on breeding most of their own females for the herd, rather than buying them in, particularly in more recent years. John is keen to check particular breeding traits for the females, so he can sift out any not suitable for breeding.
"I check all the EBVs alongside looking at cows' bloodlines, because they help produce the best-quality animals," explains John. "I'm particularly looking for Calving Ease and other factors which will make her a good mother, such as Milk. It is also important that all animals have good conformation and are correct in their legs and feet to aid locomotion and longevity in the herd."
Everything is important for sire selection
Pedigree bulls have been bought privately or at breed society sales in the past. However, one of the three bulls currently on the farm is homebred.
John selects sires carefully. "You've got to look at everything, to put quality into the breeding herd. A bull can be in the herd a long time. We have one now who is nine years old. I look at the Terminal Sire and Self-Replacing indexes, and the EBVs relating to growth rates, as well as his height, weight and conformation."
The homebred stock bull Coldridge Fred Flintstone was kept because he has good size and muscling. "He is a good quality bull with wow factor and has done well in the show ring."
The Quicks show locally in Devon and Cornwall, which helps them meet with customers. All stock are sold privately from the farm, typically eight to 12 pedigree bulls a year, and occasionally females are sold to other breeders.
"Our aim is to produce good quality bulls for commercial suckler herds and dairy herds. The dairy farmers find the Blue bulls cross well with dairy cows to produce high-quality cross-bred calves for finishing," says John.
He has many repeat customers and will continue to performance record to get overall improvement that helps him keep his buyers happy.
Runner up was the Twyning Ash Herd of Richard Carter.