British Blues top £620 at Skipton Rearing Calf Sale
27th October 2014
Skipton Auction Mart's autumn rearing calf show and sale on Monday 20th October, was topped at £620 for a British Blue-cross heifer, sired by Cogent's, Auchenlay Echo, from Sutton-in-Craven farmer Richard Spence. From the same home and the same way bred, was a British Blue-cross bull calf at £490.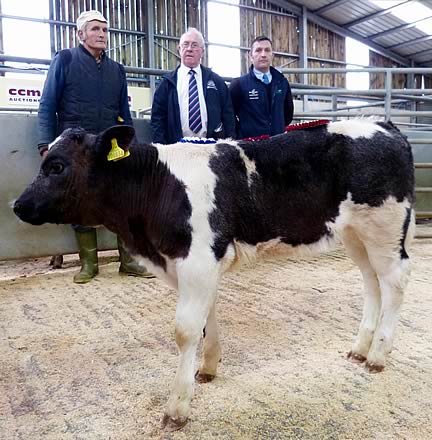 Sowray brothers took the reserve championship for their first prize British Blue bull calf, sold for £540 and also sold to £500 and £450 for two further top-notch Blue bull calves.
It was a good show of calves, with a particularly strong entry of Continentals. British Blue heifers were notably well supported, with a number of people looking for calves to grow into their suckler herds. British Blue-cross bull calves averaged £375 per head.
British Blue-cross heifers averaged £345 per head, while Limousin-cross heifers peaked at £310. Aberdeen Angus heifer calves averaged £150, with top price of £170.
The show was sponsored by Forfarmers, formerly BOCM Pauls, the regular sponsors for Skipton's calf shows.