Appointment of Company Secretary
27th October 2014
The British Blue Cattle Society is pleased to announce that Mr. Andy Ryder has been appointed as Company Secretary, following the retirement of John Fleming.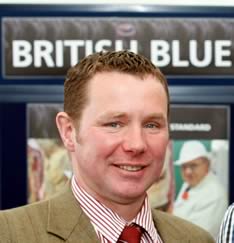 Andy Ryder, who in recent times has been farming in his own right near Carlisle and previously being heavily involved in the management and administration of the family farming, forestry and agricultural contracting interests in the Scottish Borders.
On taking up his appointment on the 1st January 2015, Andy will resign his membership of the Society. He is pleased to be working alongside Diane Hayton the Society Administrator, which will facilitate a smooth transfer of responsibilities.
Chairman, Graham Brindley commented;
'I warmly welcome Andy to his new responsibilities and the opportunity for him to work with the Council to take the breed forward. I sincerely thank all those who have taken the trouble to apply, the appointment has been made following a rigorous selection process, during which the Council interviewed a number of quality candidates.'