British Blue's Dominate Skipton Calf Show with a new Record Price of £700
19th August 2014
A mart record price of £700 was established at Skipton Auction Mart's summer rearing calf show and sale, on 18th August 2014.
The new all-time high fell to the show champion, the first prize British Blue-cross bull calf from the Sowray family, of Bowes Green Farm, Bishop Thornton, their latest title winner outshone their previous victor at the Spring show, another Blue-cross bull calf, which made £690.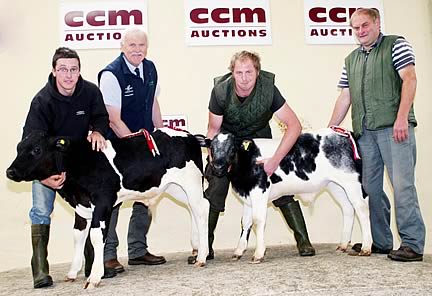 Their 41-day-old August champion, by the Genus sire Gamin Des 3 Frontieres, often used to good effect by the Sowray family, out of a top-quality dairy cow, fell to Vickers & Richardson, of Scarborough.
The Sowrays were also responsible for the third prize British Blue-cross heifer calf, which became a £360 acquisition by another regular Skipton calf buyer, Derek Taylor, of Burton Leonard.
Show judge Paul Drinkall, of Gargrave, remained in the Blue bull calf pen for his reserve champion, the second prize winner from local breeders JP&KE Hartley & Son, of Lane House Farm, Beamsley.
Again a product of Genus breeding lines, being by Rostrevor Gaberal, also proved popular at the ringside when selling for the day's second highest price of £570, again to Vickers & Richardson.
Reigning Craven Cattle Marts' Farmers of the Year, father and son Fred and Mark Houseman, who trade as Church Farm Enterprises at Burton Top Farm, Burton Leonard, had a field day, selling quality youngsters to a high of £530 for their first prize Continental male, another British Blue-cross.
In fact, they made a clean sweep of the prizes in this class with same way bred entries. The runner-up fell for £470 to, bettered at £480 by the third prize winner. All three joined Mr Taylor, as did their £440 their third prize British Blue-cross bull calf.
The Housemans also presented the first prize and top price British Blue-cross heifer stirk, sold for £400 to Vickers & Richardson, along with the second prize British Blue-cross heifer calf, knocked down at £375 to Wetherby's Robert Foster.
The top price Limousin £330
Limousin-cross sold for £290
Simmental-cross sold for £295
Shorthorn sold for £205
A packed ringside produced fantastic trade and averages for all classes, with British Blue youngsters notable when producing leading bull and heifer calf averages of £428 and £334 per head respectively.
The 94-strong turnout sold to an overall Continental-cross average of £389.80 and a native average of £188.70.
USE THE "BLUE" – THERE IS NO ARGUMENT