Records Smashed at Skipton's Spring Rearing Calf Show
British Blue-cross makes an all-time high of £690
6th May 2014
Top price records were smashed at Skipton Auction Mart's Spring rearing calf show on bank holiday Monday 5th May 2014 when the champion sold for an all-time high of £690.
The record-breaking price fell to the first prize British Blue-cross bull calf from Sowray brothers – Peter, Paul and Shaun – of Bowes Green Farm, Bishop Thornton.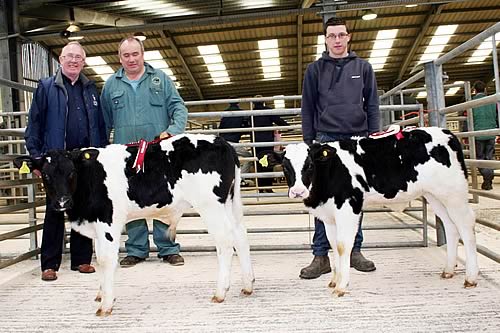 They surpassed their own previous mart record high of £600, established at Skipton last year, not once, but twice at the latest renewal with first-rate British Blue bull sons of the top-performing Cogent sire Ecstasy.
The show victor then went on to achieve a new record high price when falling to Burton Leonard's Derek Taylor, a regular buyer at Skipton, who is notably keen on Sowray youngsters. He also dug deep when paying £670 for the family's second prize British Blue-cross bull calf.
The Sowrays made a clean sweep of the Blue bull calf show class prizes, with their third prize winner, by another renowned Cogent sire, Flintoff. It fell for £570 to North Lincolnshire's Nigel and Maria Mason, prolific buyers at Skipton.
For good measure, the Sowrays also picked up both first and second prizes in the British Blue-cross heifer calf show class, the former, again by Flintoff and reserve champion on the day, heading the prices at an outstanding £530 when also joining Mr Taylor. Their second prize winner, by the Semex sire Dazzle, sold for £500 to E Snowden, of Stanbury.
The bank holiday attracted buyers from far and wide, among them a brace of bidders from Lincolnshire seeking to purchase top quality youngsters. As a result, trade was described as "electric," notably for Continental calves, with 15 British Blue-cross bulls averaging a heady £487 each.
The previous record high of £600 was also equalled by a British Blue-cross bull calf from the Hartley farming family in Bolton Abbey, while another same way bred youngster from Robert Metcalfe, of Brearton, achieved £570.
Limousin bull calves from Sutton-in-Craven's Richard Spence, among them the red rosette winner, were also hard fought over and were snapped up at £380.
Heifer calves were also good to sell, with British Blue-cross youngsters again leading the way when averaging £382 per head. Both Fred and Mark Houseman, of Church Farm Enterprises, near Burton Leonard, and Gargrave's Colin Whitelock, sold high price Blue calves at £430 and £360 respectively. The Housemans also presented the pick of the native breed heifers, an Aberdeen Angus calf sold for £290.