Farmer's Charity Auction is a Burn'ing Success!
31st January 2014
In excess of £35,000 Rised for Local Cumbrian Rural Charities
On Friday 24th January at the Farmer's Charity Auction, held at Borderway Mart, Carlisle, the crowd went nutty for a fruit cake which went under the hammer for £300. It brought together the NFU and five Cumbrian auction marts to raise in excess of £35,000 for local rural charities.
Key to the success of the event was the generosity of the rural community and businesses, with donations and promises for the auction flooding in prior to the event, totalling just shy of 500.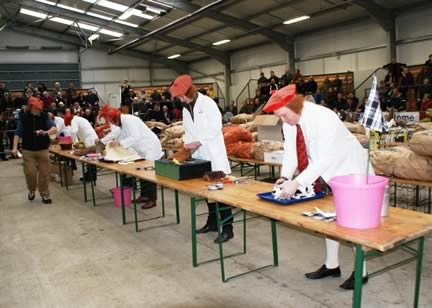 Held on the eve of Burn's Night, the event had a truly Scottish theme. The main entertainment of the day came in the form of the auctioneers competing to be champion of the haggis! Compered by Gordon Swindlehurst, Radio Cumbria, the dressing of the haggis competition was judged by celebrity cook, Annette Gibbons, and although it was a close call John Wharton, auctioneer, of Penrith and District Farmer's Mart was chosen as the winner.
Highlights from the livestock auction were lot 2 a two month old pedigree Holstein calf 'Skowbeck Mincio Judy' which went for a whopping £620, and lot 1 a British Blue heifer calf which went for £420.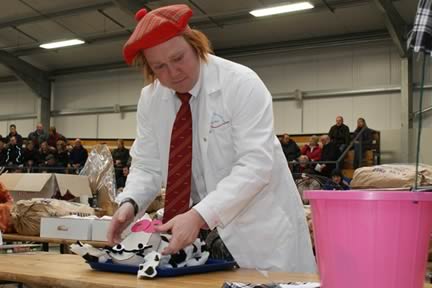 A for £400 apiece, and the promise of dinner at Cartmell's house in Caldbeck raised £880.
Commenting after the event, 2014 Charity Auction Chairman, Nick Utting said: "The success of this event really is down to the support that we received from the rural, local community and businesses in the form of items to auction, and from those who dug deep to bid. We are absolutely delighted with the tremendous amount raised for our chosen charities. Huge thanks must go the auctioneers and the NFU for their support."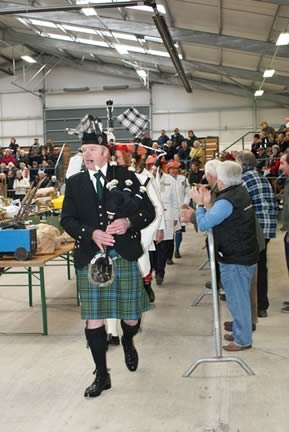 Businesses supporting the auction included the NFU, Harrison & Hetherington Ltd, The Cumberland and Dumfriesshire Farmers Mart, Longtown, Penrith and District Farmers Mart, Hopes of Wigton and Mitchells at Cockermouth.
The money raised will be donated between Hospice at Home, Life Education Centres, The Farming Community Network, Headway – the brain injury association - and The Royal Agricultural Benevolent Institution.