Blue Takes Reserve at Kirkby Stephen
6th November 2013
Harrison & Hetherington Ltd, Kirkby Stephen mart held their annual Prize show and sale of Suckled calves on Monday 4th November 2013, where a catalogued entry of 550 was on offer.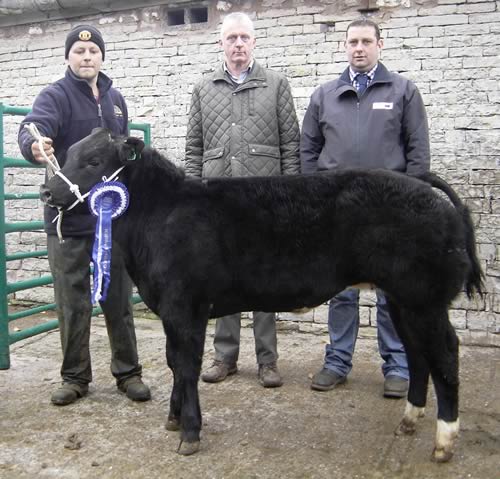 The judge Mr Ian Grainger, Wigton awarded his Champion British Blue and Reserve Supreme Champion to a British Blue Heifer from the Brown Family, Asby Hall, which sold for £1680 to the judge. Also selling to the judge at £1610 was the Reserve Champion British Blue, a Heifer from Robert & Diane Hayton, Asby Grange.
Trade for all calves was electric, Bullocks averaged £936.38 (up £145.82 on the year) with Heifers averaging £856.62 (up £58.30 on the year) this resulted in an overall average of £900.77 being achieved.
The show was kindly sponsored by JG Animal health, Dugdale Nutrition, North West Limousin Cattle Breeder Association and The British Blue Cattle Society.
Bullock Classes
British Blue Cross
1st – Messrs. Hayton, Asby Grange - £1160
2nd – D & JH Richardson, Croft House - £1000
British Blue Cross
1st – KA Brown & Sons, Asby Hall - £1920
2nd – Messrs. Hayton, Asby Grange - £1140
3rd – Messrs. Hayton, Asby Grange - £1200
Haltered
1st – K A Brown & Sons, Asby Hall - £1680
2nd – Messrs. Hayton, Asby Grange - £1610
Champion British Blue
K A Brown & Sons, Asby Hall – Haltered Heifer
Reserve Champion British Blue
Messrs. Hayton, Asby Grange – Haltered Heifer
Principle Prices
Bullocks
British Blue £1250, , £1120, £1050, £980, £970, £950 (2) Stoneygarth; £1230, £1160, £1120, £1070 (2), £1060 (2), £1010 (2), £1000 (3), £950 (2), £910 Asby Grange; £1140 Sunnyside; £1140, £920 Hawkswell; £1050, £900 Thorney Gale; £1020, £980, £920, £900 Crosby Lodge; £1000 Croft House Farm; £990, £900 Flakebridge; £960 Sleddale Hall; £950, £900 Williams House:
Heifers
British Blue £1920, £1680 Asby Hall; £1610, £1200, £1140, £1070, £1060, £1020, £910, £900, £890 (2), £860, £840, £800 Asby Grange; £1250, £1070, £880 Sunnyside; £1100 Highfield Farm; £1040 Sleddale Hall; £1035, £1000, £865 Park Lodge; £860, £810 Crosby Lodge; £800 Stoneygarth; £800 Flakebridge