UK Under Pressure from EU to Cull Badgers
May 22 2013 Oliver Moody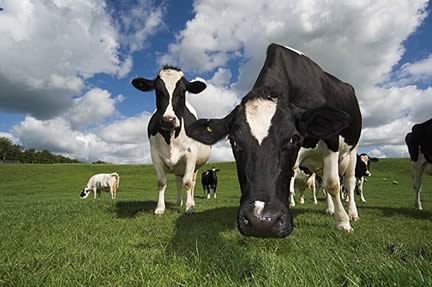 The EU could reinstate a ban on British cattle exports if the country fails to carry out a badger cull, the UK's chief veterinary officer has warned.
Nigel Gibbens said there was "pressure" from Brussels for ministers to press on with the campaign against the disease, including controversial badger cull trials due to begin within the next fortnight.
"If we don't comply, they can take trade sanctions against us," he said. "The most obvious one is a ban on exporting live cattle."
The worldwide ban on British cattle exports was only lifted by the European Union seven years ago after the bovine spongiform encephalopathy (BSE) crisis of the 1990s receded.
A spokesman for Tonio Borg, the European Health Commissioner, said failure to control bovine tuberculosis (bTB) could lead to "serious restrictions" on British exports, but it was "way too early to envisage such measures".
The scale of the bTB epidemic in Britain is far worse than in any other European country, and government scientists said it could end up posing a risk to public health and costing the public purse up to £450 million a year if left unchecked.
Mr Gibbens said the case for the badger cull was urgent. "If you let TB rip and there was more TB around, we would see TB in larger numbers of animals and different animals, that would bring a different threat to human health."
Ian Boyd, chief scientific adviser to the Department of Environment, Food and Rural Affairs (Defra), said bTB was out of control. "We had bovine TB under control in the early 1980s, and essentially we have lost control of this disease in the UK and particularly in certain parts of the UK."
The disease has already cost the Government more than £500 million over the past ten years, with each farm hit by bTB typically costing the taxpayer £22,000. More than 6,000 infected cattle were slaughtered in January, the last month for which figures are available.
In the absence of a vaccine for cattle, which could take more than a decade to win approval from the EU, the Government has given permission for two pilot badger culls to take place in the South West from June 1.
A total of approximately 5,000 badgers must be shot over four years in secret areas in west Gloucestershire and west Somerset.
Marksmen hired by landowners in these areas will either kill the badgers in the open or trap them in cages, but there is expected to be significant disruption from animal rights activists.
The Home Office has advised Defra that it will have to cover the costs of drafting in extra police officers, and local forces said the culls would need private security to protect them.
There is as yet no definite back-up plan for what would happen if the culls fail to meet their targets of killing 70 per cent of the badgers on 70 per cent of the land in the trial areas.
Professor Boyd said: "If for some reason [the culls] cannot continue then we simply have to withdraw and reassess whether we pursue a different approach to killing or move to vaccination or some other method. We cannot allow the status quo to continue."
Previous trials in Britain have indicated that sustained badger culls could reduce the number of cases of bTB in cattle by 16 per cent, although similar culling in Ireland cut the rate by more than a quarter over 15 years.
Brussels Piles Pressure on UK to Tackle Bovine TB
21 May 2013 Philip Case
The UK is facing mounting pressure from the European Union to get bovine TB under control, say government scientists.
DEFRA chief scientific advisor Ian Boyd said the disease was spreading rapidly across the South West and into Wales and was worse in England than in any other European country.
He added that the current direction of travel was "untenable" and insisted "we must act now" to get the disease under control.
Bovine TB is already costing taxpayers £100m a year through current controls and compensation payments to farmers.
But if the disease is left unchecked in wildlife, DEFRA said this figure will likely double over the next 10 years and quadruple to £400m by 2050.
Prof Boyd said a badger cull was "not a solution" to dealing with bovine TB, but it could work well as part of a management strategy of different measures in tackling the disease.
"Badger culling may, in some circumstances, be the most appropriate intervention we could put in place," said Prof Boyd, speaking at a DEFRA press briefing in London on Tuesday (21 May).
"We want to test whether we can turn the experience from the Randomised Badger Culling Trial (RBCT) into an operational management approach.
"In other words, that's to test its efficacy - can we take away the numbers of badgers from these areas we think we need to in order to get the results of the RBCT (16% reduction in TB incidence) - and can it be done humanely.
"What we will not know for many years is the impact of these pilot culls on bovine tuberculosis because we know it takes several years for that to be observed."
He added that increasing the efficiency of killing and widening the cull zones to about 300sq km could minimise the "perturbation" effect of badgers fleeing to other areas.
DEFRA chief veterinary officer Nigel Gibbens said more than 28,000 cows were slaughtered in England last year because of TB, which he described as a disease causing an "out of control" epidemic in wildlife.
"We are dealing with a year-on-year increasing epidemic and what we have to do by the impact of our controls is turn that from an increase to a reduction, so that year on year we are seeing the new herd incidences going down," he added.
"To do that, we have to hit every single route of transmission in every way we can."
In the framework of EU legislation, Mr Gibbens said there was an "expectation" that countries with bovine TB will move towards eradication - as many already have.
"The commission recognises the challenge we face and fund us €30m each year, of which about €12m is coming to England," he said.
"As part of that they expect to approve our eradication plan, which they have done and they are constantly seeking for us to improve and set targets for the numbers of checks we do, the removals of reactors and so on."
He added: "They are attuned to the approaches we are taking towards the disease but constantly pressing for us to be more effective. They actually want to see the outcome to go from a rising epidemic to a falling one."
If the UK does not improve its record on TB, the EU could ultimately impose sanctions. Typically, these could involve a ban on live cattle exports, Prof Boyd warned.
A six-week pilot badger cull is due to start in west Somerset and west Gloucestershire any time from 1 June.
Under the policy, trained marksmen will use a combination of free shooting and trapping and shooting to kill around 5,000 badgers in total.
An independent panel will assess the safety, efficacy and humaneness of the pilots before the government can decide whether to roll out the policy more widely.