First Asda/ABP BeefLink steak competition of 2013 won by steak from British Blue cross young bull
The first Asda/ABP BeefLink steak competition of the 2013 show season was won today by a steak from a British Blue sired young bull bred by Larne, Co Antrim-based farmer Robin Arnold.
The steak came from a 352kg carcass which classified U2 which was consigned to ABP's Lurgan abattoir. The young bull was 15 months old when slaughtered and is one of 150-200 prime cattle Mr Arnold sells to ABP every year, with most being British Blue crosses bred from the farm's 240-cow milking herd.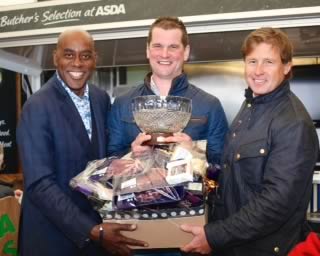 Second spot in the competition, which was staged at Balmoral Show at the new Balmoral Park Showground, Lisburn, was a steak from a Blonde Cross heifer which had a carcass weight of 374.9kg and graded U3 when slaughtered at 26 months. This one came from Clogher, Co Tyrone-based Philip Trimble.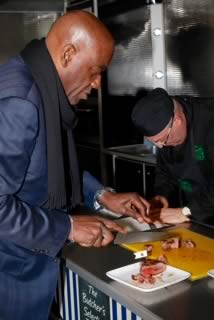 And in third spot in the competition which was judged by celebrity chef Ainsley Harriot and a panel made up of members of the public, was a steak from Portadown, Co Armagh, farmer Mark Jackson.
This steak came from a 323kg Limousin cross carcass which was slaughtered at 24 months old and graded E+3.
Asda's senior red meat trader Jim Viggars was on hand to present the prizes alongside Mr Harriot, with Mr Viggars commending all 12 finalists on the high quality of their entries.
"After the tough winter endured by Northern Irish farmers to have such an excellent selection of steaks forward for this competition was true testament to the quality of the farmers and the cattle they supply to Asda week in, week out.
"The quality of the steaks on show made for a great spectacle and I'm sure the other competitions due to be staged at the Royal Highland, Great Yorkshire and Royal Welsh shows will match this one for the quality of entries."