Carlisle Suckled Calves
25 March 2013
Harrison & Hetherington's Special March Show and Sale of Continental Suckled Calves consisted of an unrivalled selection of the most outstanding suckler bred calves available at any market in the UK.
A catalogued entry 1587 cattle brought customers from all over the British Isles, and despite lacking the strength of previous sales as the weather conditions affected both the grazing and the quality of fodder, the sale averages exceeded last years' extreme rates with bullocks leveling at £1070 (+£5) and heifers averaging £1048 (+£55).
Leading a successful day's trading was a 10 month old Limousin cross heifer from Messrs Lee, Agars Hill, Hexham which was knocked down for £3900. This eyecatching lady was sired by a homebred Limousin bull and bred from a Limousin cross British blue bred cow.
Taking the Steer and Overall Championship and receiving the Edward Barton Memorial Trophy, kindly donated by the Barton family from the pre-sale show, was noted show-calf breeder John Smith-Jackson, Hightown, Haltwhistle which sold for £3600. The stylish black Limousins bullock, born May-2012, is sired by the renowned Shire Apollo and bred from a Limousin cross dam.
The Reserve Champion Heifer, consigned by Messrs AJ & FM Harrison, Grange Hall, Appleby then followed at £3000. The much-admired red Limousin heifer is a Fieldson Alfy daughter from a British Blue cross dam sired by Boomer Tigger; one of the Harrisons' stock bulls who has bred many successful show calves and replacements for the family's herd.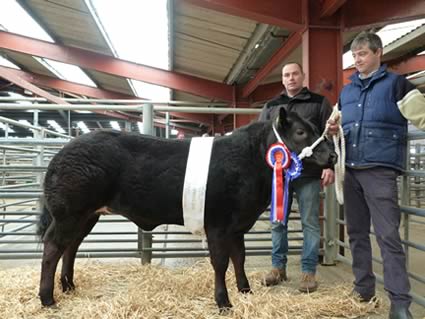 The Heifer and Reserve Overall Champion, from Neil Marston, Millstone Moor, Cockermouth traded at £2700. The showy black British Blue cross heifer is a daughter of British Blue sire Bluegrass Cyclone, from a purebred Limousin dam.
The Reserve Champion steer from Messrs Powley, Greenmarsh, Carlisle went under the hammer at £1700. This red Limousin, sired by Haltcliffe Doctor, is from a British Blue cross dam bought from Messrs Gass, Nunscleugh.
Other leading prices included a 2nd prize British Blue cross heifer from Messrs Harrison of Grange Hall, Great Asby which sold for £3800, also a Limousin cross heifer from the same home at £2900; a 1st prize British Blue cross heifer from Neil Marston of Millstone Moor, Cockermouth sold for £3600; a 1st prize Blonde cross heifer from Messrs Harrison of Thorney Bank, Shap sold for £2600; a Limousin cross heifer from Messrs Gardner of Glebelands, Roweltown sold for £2600; a 1st prize Limousin cross heifer from John Smith-Jackson of Hightown, Haltwhistle sold for £2400.

Leading Consignment Averages – Millstone Moor (2 head) £3150, Hightown (3) £2433, Greenmarsh (2) £1625, Millerhill (13) £1455, Netheroakshaw (2) £1410, Park View (5) £1395, Cracrop (4) £1395, Crookholm (9) £1325, Carr House (5) £1290, Newton High House (8) £1280, Tercrosset (40) £1268, Ainstable Hall (8) £1243, Grange Hall (43) £1239, Setterah Park (28) £1226, Osborne Farm (5) £1212, Newlands (2) £1200, Hunters Hall (8) £1199, Manor House (6) £1192, Home Farm (3) £1183, Roughet Hill (12) £1161, Bridgehouse (10) £1144, Mayfield (15) £1124, Bassenthwaite Hall (52) £1114.
The pre-sale show, generously sponsored by Pfizer and McCaskie Farm Supplies, saw nearly 70 cattle presented to the judge, Mr Tecwyn Jones of Ty Newydd, Llanrwst. The pens of cattle for judging was carried out by Mr James Brand of Auchtermuchty, Fife.
CLASS 3 - BRITISH BLUE X HEIFER (HALTERED)
1ST NC MARSTON, MILLSTONE MOOR, REDMAIN, COCKERMOUTH £3600
2ND R & M ARCHER & SON, LOW CARRY HOUSE, WARK, HEXHAM £1150
3RD W GILL, NEWLANDS FARM, IREBY, WIGTON £1300
CLASS 4 - BRITISH BLUE X HEIFER
1ST NC MARSTON, MILLSTONE MOOR, REDMAIN, COCKERMOUTH £2700
2ND AJ & FM HARRISON, GRANGE HALL, GREAT ASBY, APPLEBY £3800
3RD B HALL, AINSTABLE HALL, AINSTABLE, CARLISLE
CLASS 9 - BRITISH BLUE X BULLOCK (HALTERED)
1ST N HARRISON, TAILBERT, SHAP, PENRITH £1040
CLASS 10 - BRITISH BLUE X BULLOCK
1ST MESSRS TWENTYMAN, OSBORNE FARM, WIGTON £1600
2ND P KERR & SONS, NETHER OAKSHAW £1700
3RD JS & S LITTLE, MAYFIELD, THURSBY, CARLISLE £1320