Border British Blue Club Primestock Show & Sale
20th March 2017
At Borderway Mart, Carlisle on Monday 20th March 2017, The Border British Blue Club held their annual show and sale of primestock in conjunction with Harrison and Hetherington's weekly primestock sale.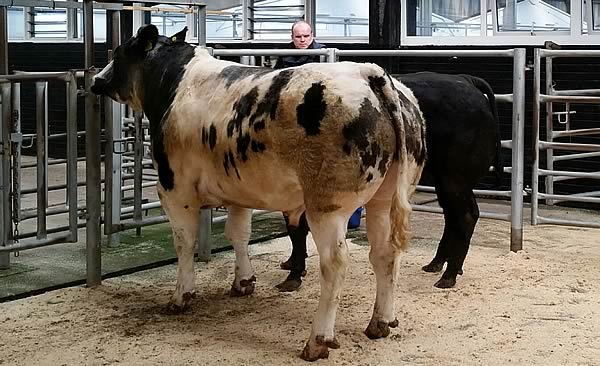 A superb show of cattle was presented to the judge, Mr Jimmy Mulholland of Mulholland Butchers, Great Orton. His choice of Championship went to the 1st prize winning steer shown by Mr N Dixon of Low Whinnow Farm, Thursby which sold for 209.5ppk, (786kg), £1646.67 and was purchased by Pioneer Foods Ltd, Carlisle.
The Reserve Championship ticket was won by JJ Crichton, Loughrigg Farm, Egremont, with their 1st prize heifer entry which was sold at 325.5ppk, (621kg), £1462.46 and was knocked down to R & JP Mulholland Butchers, Great Orton.
An outstanding entry of 15 cast cows was presented for judging and coming out top was an entry from Messrs Jackson, Skelton Wood End, Skelton which sold for 214.5ppk, (880kg), £1887.60. They also secured the 2nd prize rosette which went onto sell for 214.5ppk, (951kg), £2039.90.
Prize list as follows:-
CLASS 1 – BRITISH BLUE CROSS – STEER
1st – N Dixon, Low Whinnow Farm, Thursby, Carlisle 786kg, 209.5ppk, £1646.67
2nd – A & CS Comrie, Stonebyres Mains, Lanark 625kg, 224.5ppk, £1403.13
3rd –GN & DM Bowe, Bothel Parks, Bothel, Carlisle 664kg, 214.5ppk, £1424.28
CLASS 2 – BRITISH BLUE CROSS – HEIFER
1st – JJ Crichton, Loughrigg Farm, Egremont, Cumbria 621kg, 325.5ppk, £1462.46
2nd – N Dixon, Low Whinnow Farm, Thursby, Carlisle 775kg, 203.5ppk, £1577.13
3rd – S & D Blaylock, Kirkend, Coldstream, Berwickshire 498kg, 248.5ppk, £1237.53
CLASS 3 – BRITISH BLUE CROSS – YOUNG BULL
1st – JJ Henderson & Son, Park House Farm, Welton, Carlisle 624kg, 195.5ppk, £1219.92
2nd – JJ Henderson & Son, Park House Farm, Welton, Carlisle 594kg, 189.5ppk, £1125.63
3rd – JJ Henderson & Son, Park House Farm, Welton, Carlisle 600kg, 187.5ppk, £1125.00
CLASS 4 – BRITISH BLUE CROSS – CAST COW
1st – Messrs Jackson, Skelton Wood End, Skelton, Penrith 880kg, 214.5ppk, £1887.60
2nd – Messrs Jackson, Skelton Wood End, Skelton, Penrith 951kg, 214.5ppk, £2039.90
3rd – Maulscastle Farm, Maulscastle, Annan, Dumfriesshire 873kg, 207.5ppk, £1811.48
OVERALL CHAMPION
1st prize Steer
N Dixon, Low Whinnow Farm, Whinnow, Thursby, Carlisle 786kg, 209.5ppk, £1646.67
Purchased by Pioneer Foods Ltd, Carlisle
RESERVE OVERALL CHAMPION
1st prize Heifer
JJ Crichton, Loughrigg Farm, Egremont, Cumbria 621kg, 325.5ppk, £1462.46
Purchased by R & JP Mulholland Butchers, Great Orton