British Blues sell to a top price of 10,000gns at Carlisle
6 Bulls average £5950
British Blues sold to a top of 10,000gns and averaged £5950 at the Border British Blue Clubs' 27th Annual Autumn Show & Sale at Borderway Mart, Carlisle on Friday 30th September 2016.
Top call came for Homilton Jupiter, a mainly black, 2 year old son of Drift Domino. Out of one of the herds best breeding cows Ruaig Vodka, who herself is sired by Visconti De St Fontaine. The 3rd prize winning bull was bred and exhibited by Border Club enthusiasts Roly & Mel Carr, Homilton Farm, Capheaton. Jupiter has been consistent in the show ring this year winning 4th prize senior bull at the Royal Highland Show and 3rd prize at the Great Yorkshire Show, he was also a member of the 1st prize group of three at the Great Yorkshire. The successful bid came from KW Gamble, Brickyard Farm, Knott Lane, Easingwold, Yorkshire to join his Linthorpe Herd. Roly & Mel also win the Border British Blue Club Trophy for the highest price animal owned by a member of the Border Club.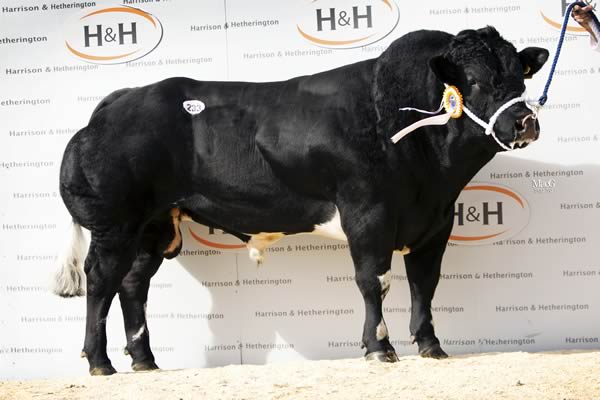 The Reserve Male & Reserve Supreme Champion Almeley Jeronimo, was next in the price ratings at 7,000gns. Jeronimo a 25 month old bull was bred and exhibited by Graham Morgan, Cider Mill, Tillington, Herefordshire and is by their noted stock bull Drybarrows Cawdale and out of their homebred cow Esmeralda. Signing the cheque was T Laird & Son, Carbello and Sunnyside Farm, Cronberry, Cumnock, Ayrshire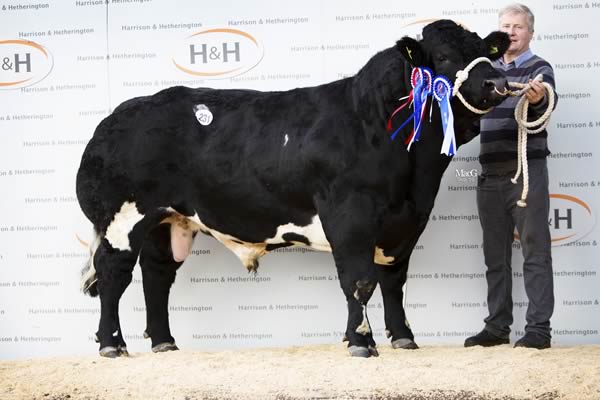 Judge for the day, Richard Brough, Carrock Herd put up as his Male & Supreme Champion, Tanat Jonty ET, a September 2014 son of the Grommit Hof Ter Zilverberg (IS) and Tamhorn Enchanted ET flush. He was bred and exhibited by Wyn Jones, Henfache, Oswestry. Jonty was knocked down to J & B Metcalfe, High Old Shield Farm, Greenhead, Brampton, Cumbria
Next in the price ratings was the first prize winning bull Stonebyres Kingpin, a January 2015 son of Tamhorn Enterprising ET and out of Stonebyres Gypsy ET, from Blair & Shona Comrie, The Beeches, Stonebyres Mains Farm, Lanark. Kingpin, who has a Carcase Profitability index of +20 (breed av. +12) and Pedigree Breeding Index of +24 (breed av. +6) found his new home with Wright Bros, Highgate, Leverton, Boston, Lincolnshire at 5,200gns
The Female Championship & Wilodge Perpetual Shield for the Best Animal Opposite Sex to the Champion was awarded to a January 2015 heifer, Tanat Kindly ET, out of a Phenomene de Martinpre (IS) and Faughanvale Cindy ET flush, bred and exhibited by Wyn Jones. She was knocked down for 3,000gns to Nigel Leighton, Fairfield, Barnby on the Marsh, Goole, East Yorkshire
The Show & Sale was kindly sponsored by Keenan an Alltech company.
AVERAGES
6 Bulls £5950.00
1 Female £3150.00
Leading Prices
BULLS
Roly Carr's 'Homilton Jupiter' 10000gns to KW Gamble, Brickyard Farm, Knott Lane, Easin
GL & KS Morgan's 'Almeley Jeronimo' 7000gns to T Laird & Son, Carbello and Sunnyside Farm, Cronberry, Cumnock, Ayrshire. 2nd prize in class 1, Reserve Male Champion and Reserve Overall Champion
A & CS Comrie's 'Stonebyres Kingpin' 5200gns to Wright Bros, Highgate, Leverton, Boston, Lincolnshire. 1st prize in class 2
NB & I Armstrong's 'Goodyhills Kasabian' 4500gns to A Baillie, Low Glasnick Farm, Kirkcowan, Newton Stewart, Wigtownshire. 2nd prize in class 2
Kenneth J Hill's 'Kenray Jenson' 3800gns to A Baillie, Low Glasnick Farm, Kirkcowan, Newton Stewart, Wigtownshire. 5th prize in class 1
WR & WW Jones 'Tanat Jonty ET' 3500gns to J & B Metcalfe, High Old Shield Farm, Greenhead, Brampton, Cumbria. 1st prize in class 1, Male Champion and Overall Champion
FEMALES
WR & WW Jones' 'Tanat Kindly ET' 3000gns to Nigel Leighton, Fairfield, Barnby On The Marsh, Goole, East Yorkshire. 1st prize in class 3 and Female Champion
Auctioneers: Harrison & Hetherington