Tenth Annual Open Belgian Blue Primestock Show & Sale 2005
Monday 2nd May 2005 On Monday 2nd May 2005 the Border Belgian Blue Club held their Tenth Annual Open Primestock show and sale, which was kindly sponsored by Macmin Limted, Animal Feed Supplements of Stirling, Scotland and Rickerby.
The sale was held in conjunction with the weekly primestock sale at Borderway Mart, Carlisle, when they had 22 head entered, comprising 4 young bulls, 9 steers and 9 heifers.
Mr Michael Atkinson, Cleveland Meats carried out the judging, and commented on the excellent show of cattle. He awarded the Championship to a light heifer (545 kilos) whose Sire is Park Sensation and Dam a Belgian Blue X Limousin heifer,shown by SJ Stoddart, Hillside, Wigton which later changed hands at 160.0p (£872) to Donald Nattress, Butcher, The Market, Carlisle.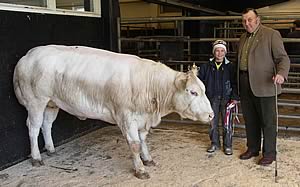 Champion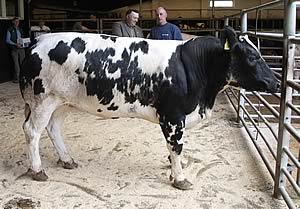 Reserve Champion
The reserve championship went to a heavy heifer (590 kilos) shown by GA & JM Maw, Wintershields, Bewcastle, Carlisle. He was purchased by G Nutter, Burnley for 135.5p (£799.45).
Class prize winners and prices were as follows:-
Class 1 Belgian Blue cross heavy steer: 1st JJ Crichton, Loughrigg Farm 126.5p (£885.50); 2nd Messrs Dent, Elm House 121.5p (£789.75); 3rd JT Steel, Steeley Farm 122.5p (£790.13).
Class 2 Belgian Blue cross light steer: 1st JJ Crichton, Loughrigg Farm 133.5p (£760.95); 2nd JW Brown, Midtown Farm 125.5p (£665.15); 3rd Messrs WT McMiken, Nether Ernambrie 129.5p (£653.98).
Class 3 Belgian Blue cross heavy heifer: 1st & Reserve Champion GA & JM Maw, Wintershields 135.5p (£799.45); 2nd SJ Stoddart, Hillside 137.5p (£811.25); 3rd GA & JM Maw, Wintershields 124.5p (£796.80).
Class 4 Belgian Blue cross light heifer: 1st & Champion SJ Stoddart, Hillside 160.0p (£872.00); 2nd M & J Cowen, East Curthwaite 134.5p (£692.68); 3rd SJ Stoddart 129.5p (£666.93);
Class 5 Belgian Blue cross young bull: 1st GA & JM Maw, Wintershields 134.5p (£699.40); 2nd Claremont Properties, Hayclose 111.5p (£507.33); 3rd GA & JM Maw 116.5p (£640.75).